Facilitation and Coaching
Our experience has been that, whatever your learning goals are, there's always a gap between the situation you're working toward and your current reality. We help you advance toward these goals first by measuring the overall gap between where you want to be and where you are now – and then highlighting the specific points that need to be improved to get to the next level.
​
Goals might be, for example, quickly getting managers up to speed on a compliance issue, getting measurable results from an upcoming negotiation, or identifying the risks in a project before going public.
So, what actually happens on the day?
---
The methodology is really straightforward. We start with your goal – your desired outcome – and then work backward to define the barriers you're likely to face in the course of reaching that goal. Each session introduces tools and techniques to help you work through these barriers so that you're always acquiring new skills and knowledge through experience. In this way, participants progress steadily toward your goal one milestone at a time – while understanding not only what works, but also why. For customers who request performance assessments, we're able to monitor and score participants' ability to handle each of the challenges along the way, and give you concise feedback on each step. Every session provides this quality of personalized assessment so Participatns can see their progress and decide what their next steps should be. So, if this is the solution you're looking for, just book the session you want, buy it, and then start using it whenever you're ready.
---
A Case Study: TAC
---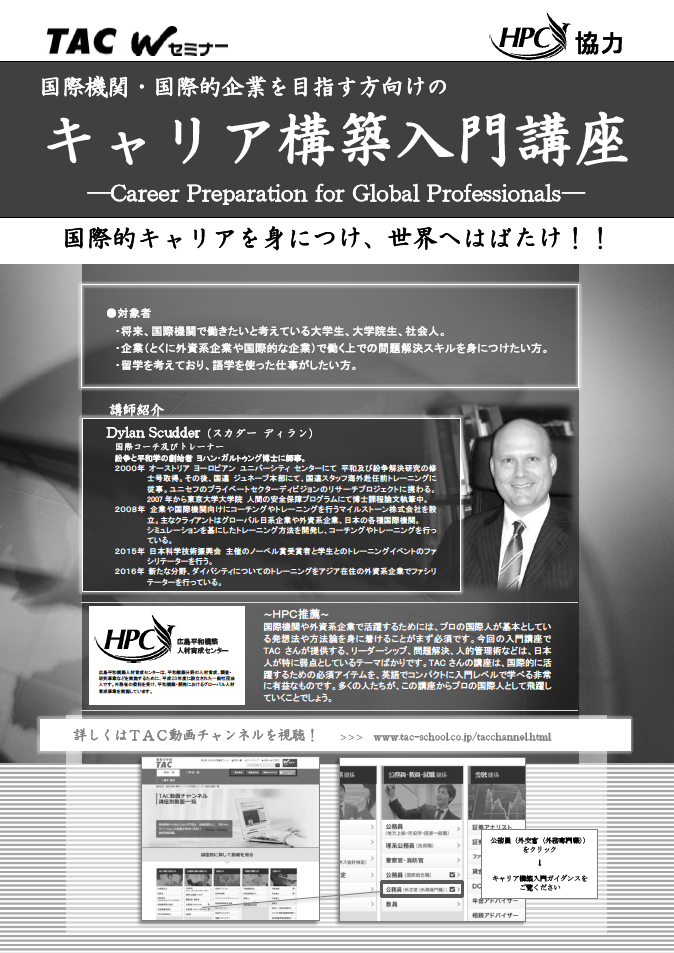 Background:Under the auspices of the Ministry of Foreign Affairs, a special program was launched and carried out by TAC, the well-known professional training school with branches all across Japan. The goal was to support Japanese nationals working in the private sector to secure positions at the United Nations, the World Bank and other international organizations. Solution:Milestone was contracted by TAC to develop a curriculum that would give participants a series of real-world simulations to prepare private-sector professionals for working in difficult operating environments. Over the course of 3 months, participants used the Milestone methodology to acquire the skills they needed to prepare for everyday tasks expected of them in their new posts at the UN and international development organizations. As an integral element within each workshop, Milestone facilitators coached participants one-to-one to help them clarify their career goals and identify areas to improve in order to secure the jobs they were applying for. Outcome:The program surpassed the objectives set by the initiators by not only preparing participants for potential entry into public-sector positions, but actually securing some of these during the program itself. The program has since been expanded to include sessions in both Tokyo and Osaka, which Milestone continues to deliver. See the bilingual course syllabus here. See the Japanese program description here.
---
E-learning & Gamification
---
We're not big fans of e-learning – at least not the way it's usually done. The content is often nothing more than a series of videos and quizzes. We take a radically different approach. Using gamification, we turn static learning content into gripping real-world challenges that engage participants. Applying our team-based approach, we're able to guarantee interaction and simulate the kinds of situations that actually happen in the workplace. Our online platform also documents all the team discussion for later review, giving participants a chance to go back and reflect on how they could improve their performance next time round. On request, we also make facilitators available to join in the sessions in real-time to ensure that the course content comes to life.
---
---
Course Delivery
Course Design
How does it work?
Many of customers come to us with presentation slides, technical manuals or books – and want to make it more engaging by creating an online course – something interactive that people can easily access whenever and wherever they want. Many of them have learned that the process of creating good content is often complicated, expensive and time-consuming.
​
We took on an ambitious project of simplifying the process of creating online courses so that 'non-techies' could just fill in a questionnaire and get their courses up and running in a matter of several days rather than weeks or months. Turning this ambition into a reality took us a few years, but we were finally able to develop a comprehensive cloud-based platform that now gives us and our customers significant advantages in terms of rapid production of interactive online courses.